Firestone Roadhawk Tyres Available in Lanark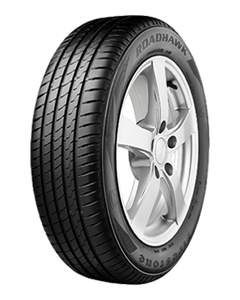 Roadhawk
Performance decays over life – from agility to outright ability. The Firestone Roadhawk tyre retains its performance characteristics in road conditions where wet weather, heavy traffic, sudden braking and motorway speed are all part of the daily mix. That means you can be sure that your tyre will provide the performance you rely on for its whole life.
Best in class wet grip
Achieving the top "A" EU-label grade for wet grip
Best in class dry braking
Up to 3 meter shorter braking distance vs. its main competitor*
Built to perform longer
Independently tested by TÜV SÜD, Roadhawk outperforms its competitors in the wet at 20.000 KM**
With up to 20% better wear performance
There are 45 reviews for Roadhawk
Overall rating
The tyres were a good choice for my vehicle.
03/11/2020

CITROEN C4 PICASSO
03/11/2020

HYUNDAI TUCSON

Very good, durable tyres from a recognised and trusted brand. Good value.